14 September 2022 12 : 00 PM to 1 : 30 PM
Overview
Join us for a timely discussion with industry experts about the new paradigm for LNG, shipping and how the latest market dynamics are influencing supply/trade routes globally.

Speakers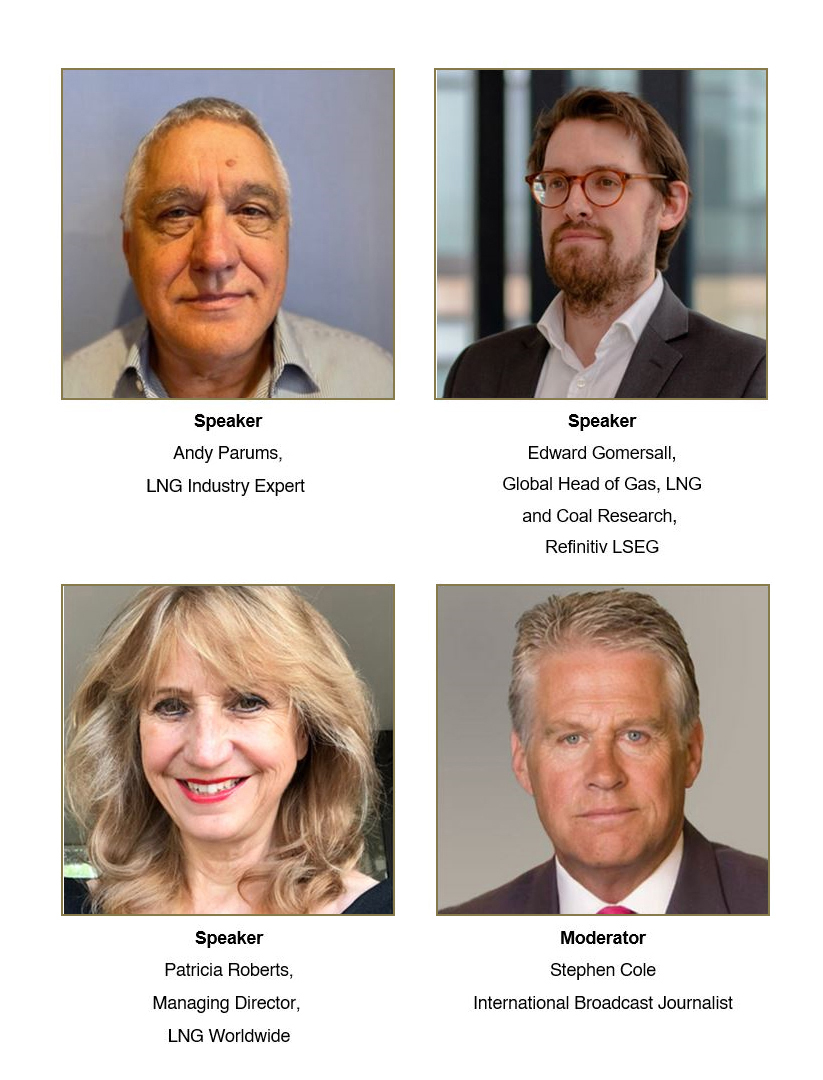 Webinar Overview

The LNG industry is facing major economic and political shifts. Supply was already struggling to keep up with rebounding demand during the post-pandemic economic recovery. Now, the sanctions on Russian energy cargos and the reduced pipeline gas deliveries from Russia to Europe have taken major quantities of gas out of the delivery systems.
Seeking energy security, and as winter approaches in the Northern Hemisphere, countries that were reliant on Russia's energy supplies are turning to the LNG suppliers to stock up on storage for the winter. However, much of the LNG supply is delivered on pre-agreed terms for both price and quantities. The spot market for LNG is more limited so prices for LNG have increased considerably.
This has impacted the market for LNG tankers. Again, the LNG tanker market has followed the LNG cargo market and matched tankers with contracts. Consequently, the spot tanker rates have also escalated significantly and hit record highs amid strong demand and limited supply.
Tankers also take several years to build. New LNG export facilities need new tankers. It is the accepted practise to book building slots with ship builders to coincide with new LNG facilities. LNG ship construction facilities are now full, well into the second half of the decade, and building a new ship takes several years, according to Maritime engineering and technology solutions specialist Lloyd's Register. The International Energy Agency said recently that LNG shipping capacity is expected to grow by 30% between 2021 and 2025, much faster than forecasts for global LNG trade (17%) and global LNG shipping demand (23%) over the same period. The lack of ship construction capacity, together with the higher prices and longer delivery times means the world will lack LNG shipping capacity to meet transport demand by 2025. Such a shortage of carriers will only worsen the energy crisis and limit LNG's scope to support the green energy transition.
Another facet of the LNG conundrum is a regional shortage of Northern Europe import terminals. A potential solution is Floating Storage and Regasification Units (FSRUs), which are considered a cost-efficient alternative to land-based import LNG terminals that take years to build and require existing infrastructure. These floating units offer a quicker and cheaper way to raise import capacity, especially for countries that want to make up for the lost Russian pipeline gas.
With nearly 400 of the 640 existing LNG carriers unlikely to comply with International Maritime Organization's (IMO) carbon intensity indicator from 2025 onwards, owners are now looking to convert their older ships to FSRUs to facilitate LNG imports. However, this presents another dilemma, as conversions will take shipping capacity out of the market, creating more supply pressure. While the world has abundant resources of natural gas and plenty of export facilities globally, traders need to urgently find solutions to deliver LNG around the world in the volumes that are required.